Valentine's Day is a wonderful time of year when couples can celebrate their love for each other and bask in the warm glow of romance. But not all couples are alike; while many do enjoy surrounding themselves with rose petals, Champagne and chocolate hearts, others prefer to find less traditional ways to express their affection. One sure-fire way to fan the flames of romance however, is through travel.
Ernest Hemingway once said that you must "never go on trips with anyone you do not love". Travel itself is romantic, and to be able to share your experiences with the person you love is the greatest pleasure of all. This makes Valentine's Day the ideal time for couples to take a trip together, and no matter what type of adventure puts the spark in your relationship, it can be found in Asia.
From off-the-beaten-track experiences to fast-paced urban excitement and blissful beachfront relaxation, this exotic region provides the perfect choice for your Valentine's vacation.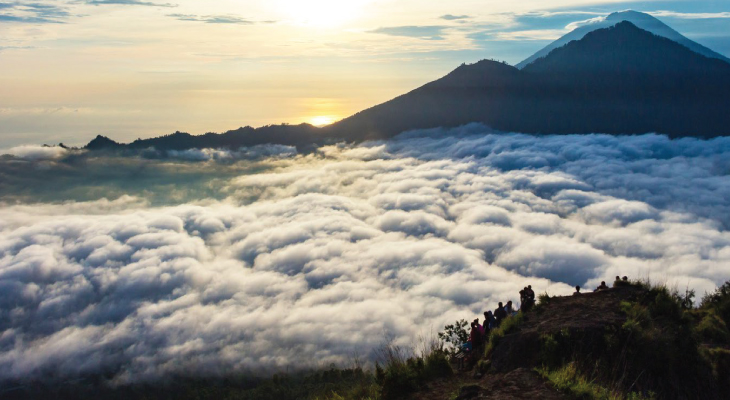 THE ADVENTUROUS ADMIRERS
Where to go: Mount Batur, Bali
For adventurous admirers, there can be no more romantic way to spend 14th February than taking a sunrise climb to the top of Mount Batur – Bali's smoking hot volcano. Following a strenuous two hour trek to the caldera, which sits 1,717 metres above sea-level, couples can cuddle up and enjoy breath-taking views of the "Island of the Gods" and the glistening ocean beyond.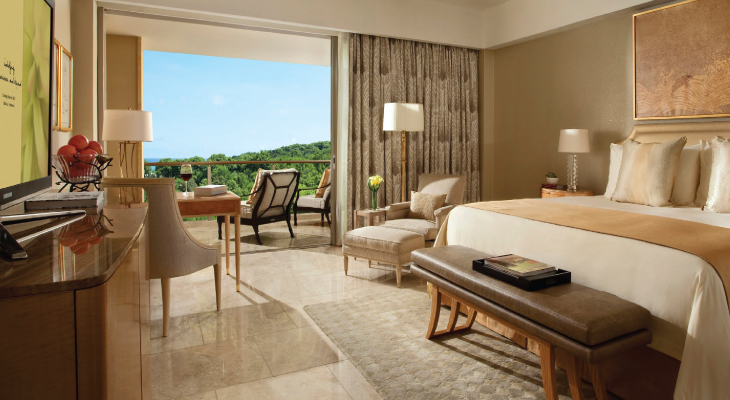 Where to stay: The Mulia
Overlooking Nusa Dua Bay, The Mulia is a luxurious all-suite hotel that provides plenty of space for couples to indulge in each other's company. Enjoy exhilarating beachfront activities such as seakayaking and paddle-boarding, or simply chill out in the stunning pools, private cabanas and spa. The 11 F&B outlets provide options for every occasion, including a romantic Valentine's Buffet Dinner at The Café for just US$50 net per person!
Recently-married WebBeds guests will enjoy special honeymoon treats, including free chocolates upon arrival or a bottle of sparkling wine and chocolates for guests booking a Royal Suite or above.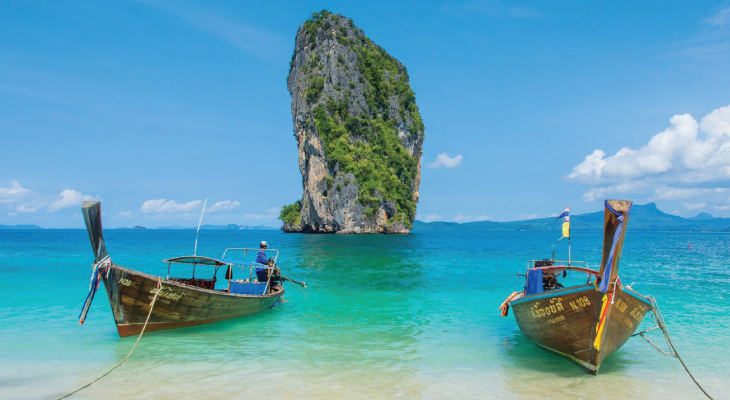 THE BEACH SWEETHEARTS
Where to go: Phranang Beach, Krabi
Beach lovers can discover their personal paradise at Phranang Beach, in Thailand's Krabi province. This blissfully secluded stretch of sand can only be reached by long-tail boat, giving it an exclusive feel. The sands are powder-soft, the seas crystal clear, and the beach is backed by dramatic limestone cliffs. Simply lie back, relax and soak up the tropical scenery with your precious partner.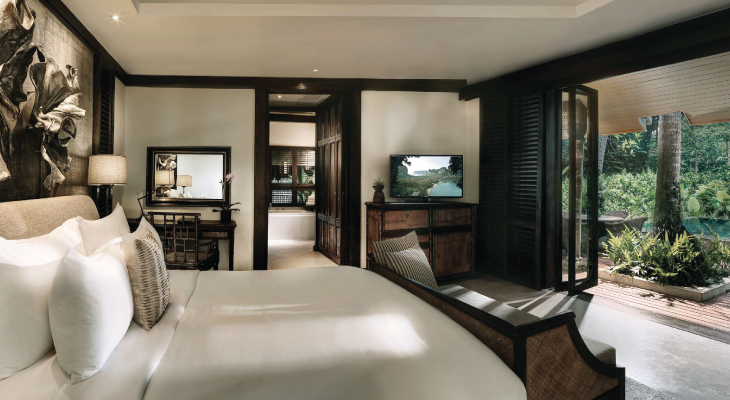 Where to stay: Rayavadee
Nestled on the Phranang Peninsula, overlooking the Andaman Sea, Rayavadee is a stunning luxury resort that blends perfectly into its tropical surroundings. The 101 two-storey pavilions and pool
villas put beach lovers just a stone's throw from the sandy shoreline, and unforgettable evening meals can be enjoyed on the spectacular seafront or in The Grotto, an alfresco dining destination set in a dramatic limestone cave.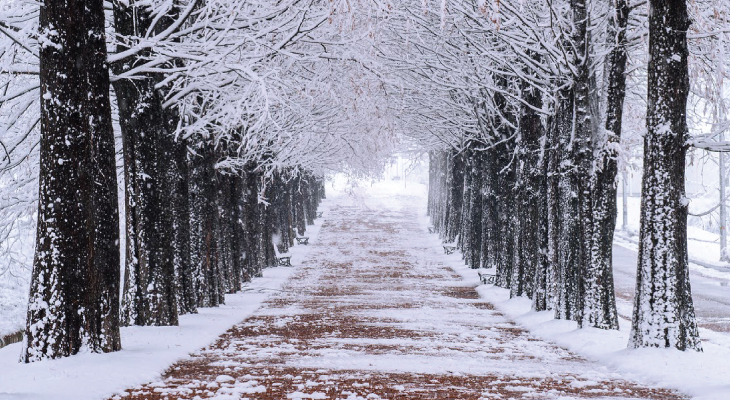 THE FAIRYTALE LOVERS
Where to go: Nami Island, South Korea
Winter Sonata was one of South Korea's most cherished romantic dramas. This famous TV show was primarily filmed on Namiseom, an island in the North Han River just outside Seoul, and visitors
can follow in the footsteps of the show's stars with a tour of Winter Sonata's most iconic sites. Strolling arm in arm along the beautiful boulevard of soaring pine trees will make memories for couples to cherish forever.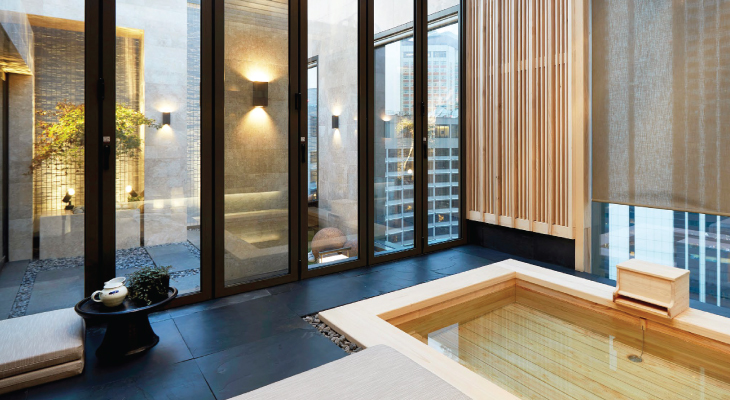 Where to stay: Crown Park Hotel, Seoul
Couples can recreate their own Winter Sonata at Crown Park Hotel, which puts guests in the beating heart of Myeong-dong, Seoul's vibrant shopping and tourism district. The soaring 17th floor lobby creates a fantastic first impression, and romantic evenings can be enjoyed at The Park Dining restaurant or The Park Library, the trendy lounge. This makes the hotel a wonderfully cosy place to stay warm during Seoul's cool winters.
On Valentine's Day, WebBeds guests can enjoy an evening of personal pampering with two complimentary face mask packs from Leaders, the premium South Korean cosmetics company.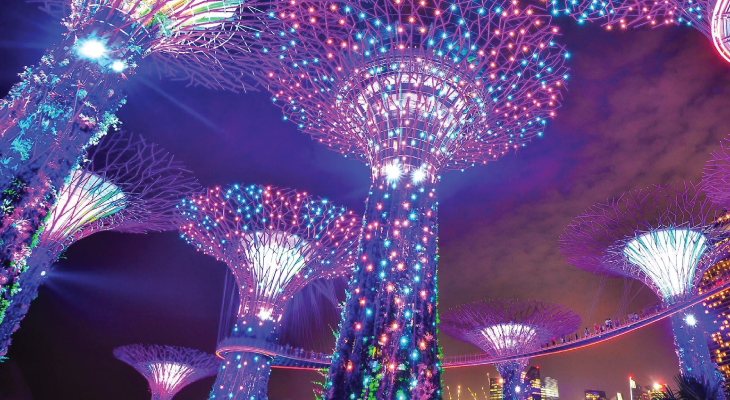 THE CITY EXPLORERS
Where to go: Gardens by the Bay, Singapore
The movie Crazy Rich Asians had a huge cultural impact and inspired countless fans to visit the urban attractions of Singapore. Home to the thousands of flowers, secret gardens and a "Cloud Forest", the spectacular Gardens by the Bay are one of the world's most romantic destinations. Whether you are a Rachel or a Nick, you will surely find love in this heart-stirring urban oasis.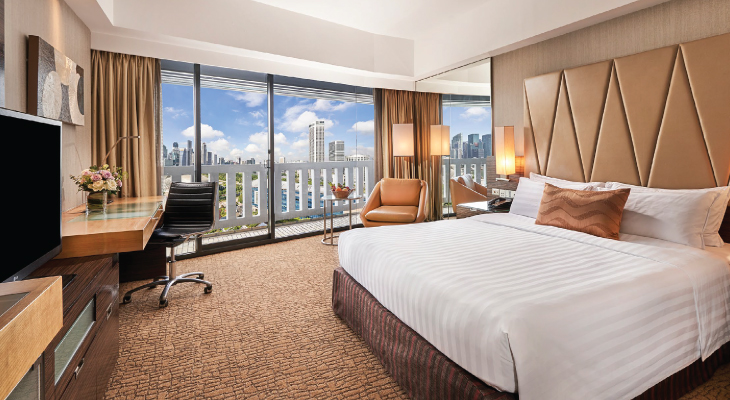 Where to stay: Marina Mandarin Singapore
Marina Mandarin Singapore is the ideal place for urban explorers to feel the buzz of the city. Perfectly positioned in downtown Singapore, close to the Gardens by the Bay, this award-winning hotel exudes Asian Grace, Warmth, and Care with panoramic views of the city and Marina Bay from each of the 575 rooms and suites. Plunge into the mineral water pool, be pampered at the Estheva spa, or enjoy world-class Cantonese cuisine at Peach Blossoms, which is featured in the Michelin Guide.