One of the world's most desirable destinations, Bali promises a perfect combination of sun, sea, sand and spirituality. "The Island of the Gods" is famous for its blissful beaches, lush green landscapes and rich culture, including enchanting water temples and UNESCO World Heritage-listed rice terraces. It is little wonder that this idyllic island now welcomes over six million international visitors per year and was named as TripAdvisor's top travel destination in 2017. But with so many enticing attractions to discover, how do you maximise your time on this idyllic island? Our "72 hours in Bali" guide is here to help…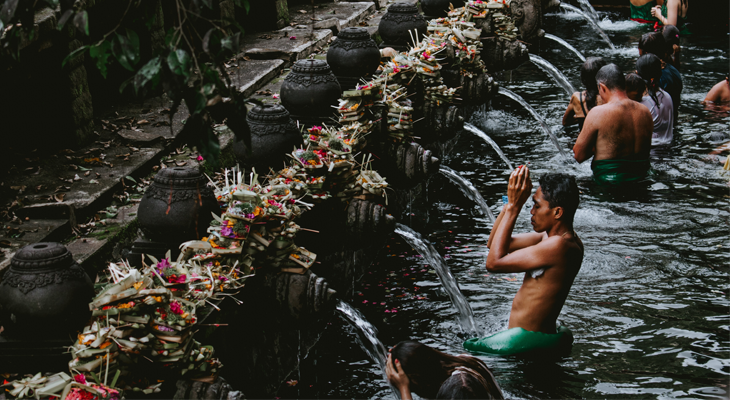 Day One
Step into Serenity
Start your adventure in Ubud, the cultural and spiritual heart of Bali. This captivating town provides a blissful break from the busy beach resorts, with many mesmerising attractions. Pura Tirta Empul (Holy Water Temple) has drawn Hindu worshippers for centuries. The sacred springs are said to have curative properties and guests can cleanse themselves in the pure waters, which include two pools and 30 waterspouts.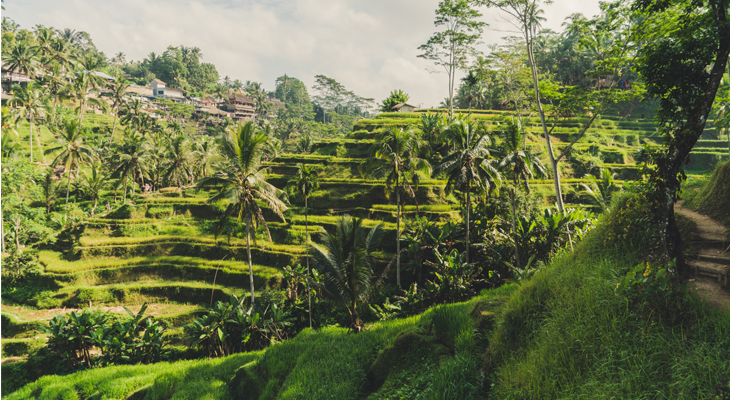 A Lush Panorama
Bali's iconic rice terraces date back to the 9th Century and have been inscribed onto the UNESCO World Heritage list. Located just 15 minutes' drive from Pura Tirta Empul, the Tegalalang Rice Terraces are nestled in a verdant valley which is great for photo opportunities, with breath-taking views. Stroll through the lush green landscape and soak up the spectacular scenery of cascading paddy fields and swaying palm trees.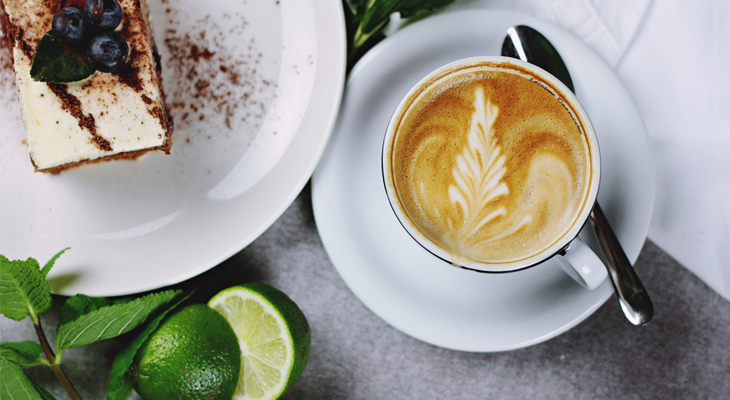 Fuel Up on Local Cuisine & Culture
Head back into town for a spot of lunch, shopping and sightseeing. Fuel up on Jalan Raya Ubud, which is lined with cosy cafés and independent restaurants where you can enjoy a variety of culinary options, including traditional Balinese cuisine, international dishes, great coffee and delicious desserts. Then head to the handicraft markets and boutiques to pick up authentic souvenirs, and pay a visit to Ubud Royal Palace to learn about the area's rich heritage.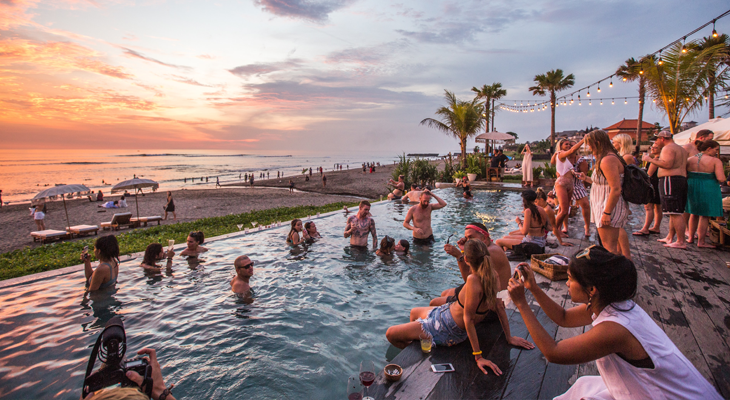 Enjoy Laid-back Legian
The charming coastal district of Legian blends cultural charm with a contemporary beachfront vibe. Stroll along Jalan Legian and explore a melting pot of unique shops, cafés and bars. Looking for a light lunch or evening meal? Make sure you order a plate of Nasi Campur at a warung – one of Legian's many small, family-run restaurants. Then head to a rooftop bar to watch the sun set and dance the night away at a club.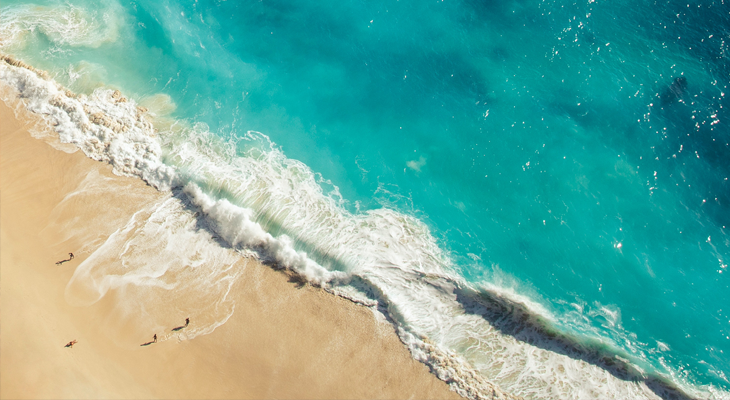 Bali is known for its white sandy beaches and sparkly waters
Day Two
Sun, Sea & Sand
Bali's upmarket enclave, Nusa Dua is home to a wealth of luxury resorts, golf courses and event venues. This southern haven is also lined with soft white sands and lapped by the Indian Ocean, and these warm, clear waters provide plenty of opportunities for water sports. Visitors seeking an exhilarating daytime activity can try jet skiing or water skiing. For a unique aquatic experience, an underwater scooter ride uncovers the area's colourful coral reefs.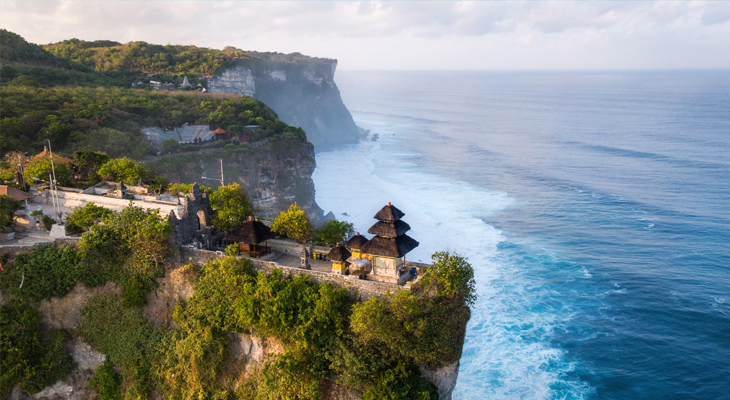 Witness a Mesmerizing Sunset
Just 35 minutes' drive west from Nusa Dua Beach, on the other side of Bali's Bukit Peninsula, lies one of the island's most iconic landmarks: Uluwatu Temple. Perched on a 70-metre-high clifftop, surrounded on three sides by crashing ocean waves, this Hindu sea temple is believed to date back 1,000 years and still attracts devotees today. Don't miss the traditional Kecak dance performance which occurs every day in the late afternoon, creating an incredible sunset spectacle.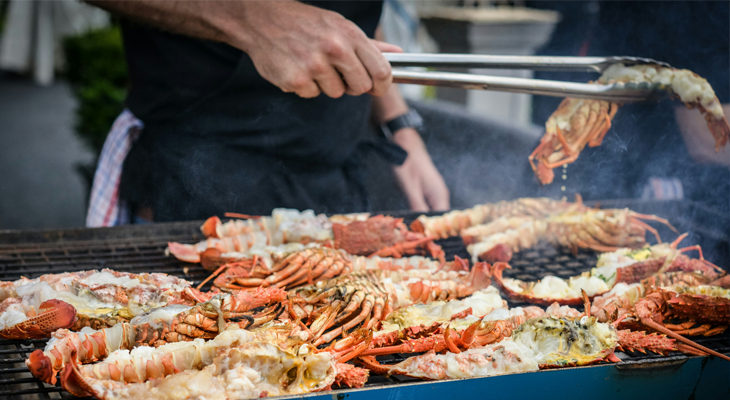 Indulge in Fresh Local Seafood
In the evening, make sure you head to Jimbaran Bay to enjoy a sensational seafood dinner on the sandy beach. Formerly a sleepy fishing village, Jimbaran has transformed into one of the island's most exquisite dining spots. Every evening, local restaurants set up hundreds of tables on the beach, allowing visitors to savour the "catch of the day", freshly grilled to-order in a serene seafront setting.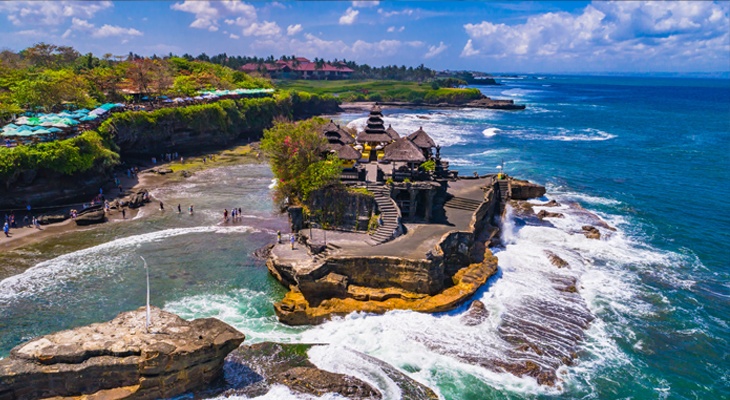 Day Three
Embrace & Explore
End your Balinese adventure in Kuta, the island's liveliest resort destination. First, head along the coast to Tabanan to visit Pura Tanah Lot, one of Bali's most popular and beautiful temples, which sits upon a rock that juts out into the ocean. Literally meaning "Land in the Sea", Tanah Lot is believed to date from the 16th Century and has become a symbol of the island's cultural and spiritual heritage. Avoid the crowds by visiting before 10am.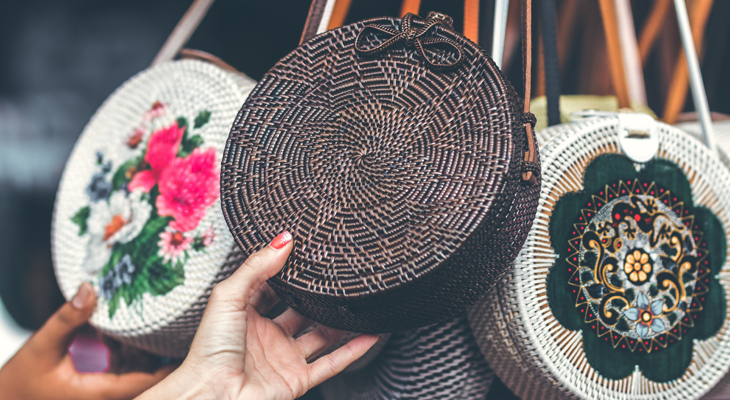 Explore Kuta's many leisure attractions
Take It Easy
You'll then have the rest of the day to spend exploring Kuta's many leisure attractions. Shop for last-minute souvenirs at Kuta Art Market, which sells Balinese handicrafts alongside the usual tourist titbits and t-shirts. Then head down to Kuta Beach to spend a relaxing afternoon sunbathing or strolling along the soft sand, or even catching the waves with the rest of the surfers.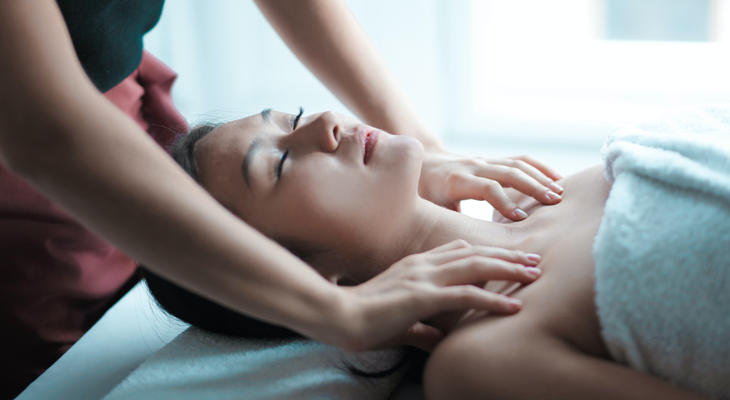 Pamper Body & Mind
Finish your 72 hours in Bali with a well-deserved massage at the Taman Air Spa. One of the island's leading wellness centres, this soothing sanctuary specialises in Balinese massage, a full-body, deep tissue treatment that combines elements of acupressure, aromatherapy, reflexology and stretching to target the body's pressure points and stimulate energy flow. This is a wonderful way to revive your body and mind at the end of an exhilarating adventure.