For visitors seeking to immerse themselves in the classical ambience of 17th Century Venice, Grand Hotel dei Dogi is a dream come true. Guests arrive at this five-star hotel by water taxi, just as aristocrats, artists, poets and politicians have done for centuries. Upon arrival, they are welcomed into hidden world.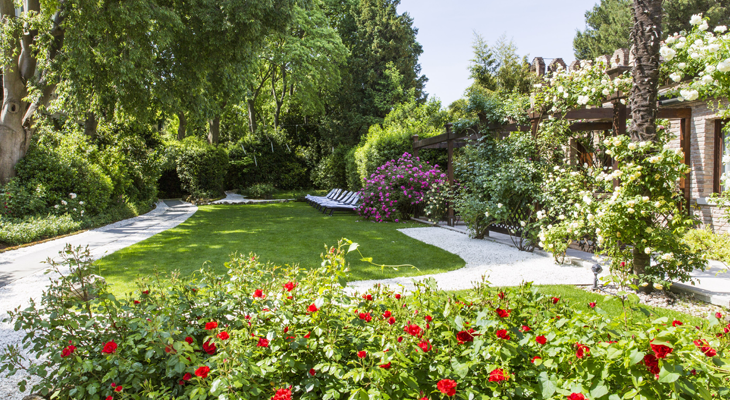 Behind its white stone facade, Grand Hotel dei Dogi features one of Venice's great secrets – the city's largest private garden. Covering more than 2,000 square metres, this is a haven of peace and tranquility, filled with fragrant flowers, glistening fountains, shady trees and verdant lawns. As guests stroll through this horticultural masterpiece, their senses will be transported back to a more graceful bygone era – a far cry from the crowds of Venice's most popular tourist areas.
The hotel itself is an architectural masterpiece. In the past, the building has served as the private home of noble families and as the embassies of France and Savoy, and the style and décor reflects this heritage. Among the artworks and sculptures are lamps created by the master glass blowers of Murano.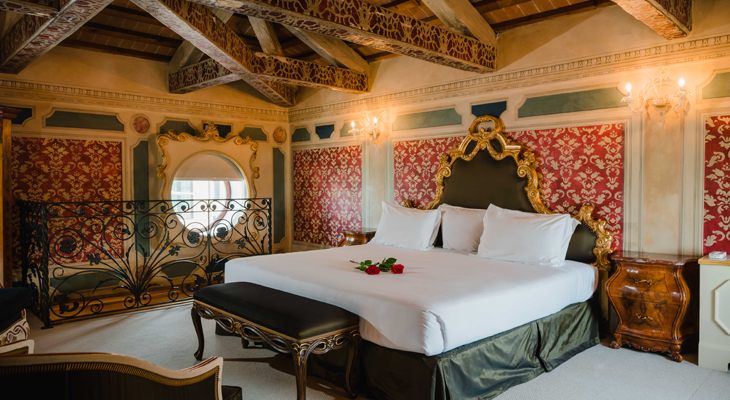 The 64 rooms exude an ambience of classical grandeur, with high ceilings, paneled walls, period furnishings and Murano chandeliers. They also feature modern amenities, marble bathrooms and views of the gardens or waterways.
This creates an inspiring base from which to discover Venice's many wonders. Grand Hotel dei Dogi provides a complimentary water taxi to St Mark's Square, allowing visitors to visit the city's most iconic landmarks, such as St Mark's Basilica, Doge's Palace and Rialto Bridge. The island of Murano, famous for its glassblowers, is located opposite the hotel pier.
When guests are not out exploring the sights of Venice or relaxing in the hotel's spectacular gardens, they can unwind in the serene spa, which features stone-walled massage rooms, a hydropool and Turkish hammam. In the summer months, guests can also enjoy an outdoor massage.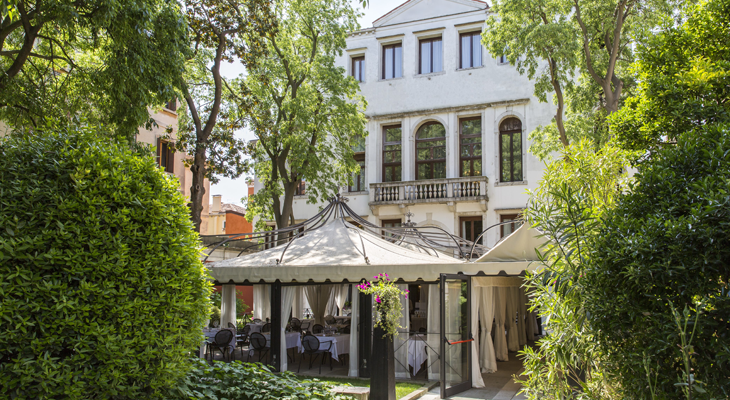 The hotel's restaurant also showcases the enchanting alfresco atmosphere; Il Giardino Segreto literally means "secret garden", and this excellent restaurant focuses on fresh, local and seasonal cuisine, with an elegant outdoor terrace. The Lounge Bar meanwhile, provides the perfect setting for an aperitivo, a glass of Champagne or a Bellini cocktail, which was famously invented in Venice.
As part of the Dedica Anthology, an exclusive collection of luxury hotels, Grand Hotel dei Dogi is in good company. In Venice however, this enchanting hotel stands alone – an idyllic retreat from the outside world.