Thailand is a dream destination full of surprises, with infamous hospitality, tropical beaches, stunning temples, and satisfyingly delicious cuisine. Whether you crave an idyllic island escape, a fresh mountain retreat or a remote riverside hideaway, the diversity of adventure and culture is bound to make you fall in love with the country.
Here are 8 authentic experiences you should not miss when visiting Thailand: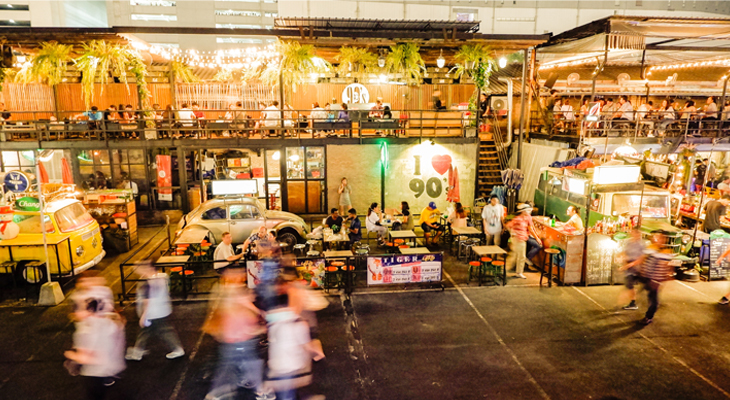 1. Savouring Thai Street Food in the Night Markets
Satisfy your tastes buds with cheap yet fresh and flavoursome Thai food at the night markets in Thailand. Every night market is unique and pulsing with energy, offering a glimpse into the colourful Thai culture. The food sections at these night markets are abundant, and you can find a wide assortment of food choices, ranging from main courses and snacks to desserts and drinks.
Recommended City: Bangkok
Thailand's capital city, Bangkok, is a street food sanctuary. Visit Talad Rodfai Ratchada (Ratchada Train Market), one of the most popular night food markets in Bangkok. This night bazaar is packed with rows of stalls selling street food, snacks, knickknacks, clothes, bags, and is also surrounded by restaurants and bars. Some of the must-try foods include: Leng (stewed pork ribs), jumbo-sized noodles, Goong Tung (Thai-style spicy grilled seafood) and Moo Ping (Thai-style grilled pork).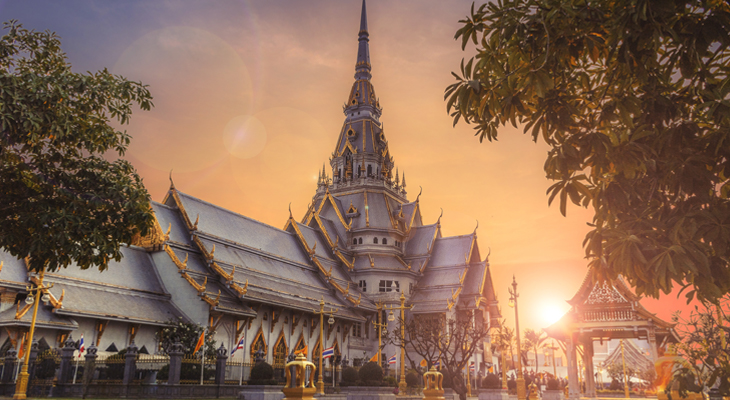 2. Discover Lanna Architecture
Beyond the capital city's skyscrapers, European-style houses and modern architectures, Thailand is also known for its Lanna buildings. Most of these beautiful architectures were built centuries ago during the period of the Lanna Kingdom. The most distinctive feature of a Lanna house is the V-shaped sloping roofs that are intricately carved and made of teak wood.
Recommended City: Chiang Mai
An ancient walled city surrounded by jungle-clad hills; Chiang Mai is a city that exudes cultural charm. There are also plenty of elegant Lanna-style retreats in this part of Northern Thailand, we recommend spending a couple of nights at Sibsan Luxury Hotel Rimping and Dhara Dhevi Chiang Mai. Stroll through the streets, visit golden temples and soak up the enchanting ambience.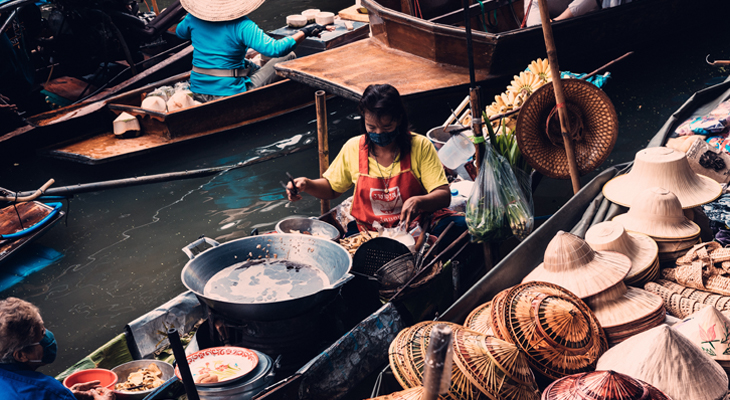 3. Enjoy Food by the River at a Floating Market
Floating markets in Thailand have come a long way. While it was started traditionally to serve as central places for trade and domestic consumption, most have now evolved to make way for tourism. Enjoy the local vibe by taking a long-tail boat down the narrow winding waterways.
Recommend City: Pattaya
Covering an area of 100,000 square meters, the Pattaya Floating Market is the largest of its kind in Thailand. Separated into four sections, each section represents and sells items from the four major parts of Thailand – north, northeast, central and south. There are many authentic Thai dishes, desserts and specialties to taste here. Highlights include Pad Thai (stir-fried rice noodles), noodle soups, Ka Non Krok (coconut pancake), Thong Yip (sweet egg yolk) and more. Don't forget to also check out the souvenir shops and art galleries.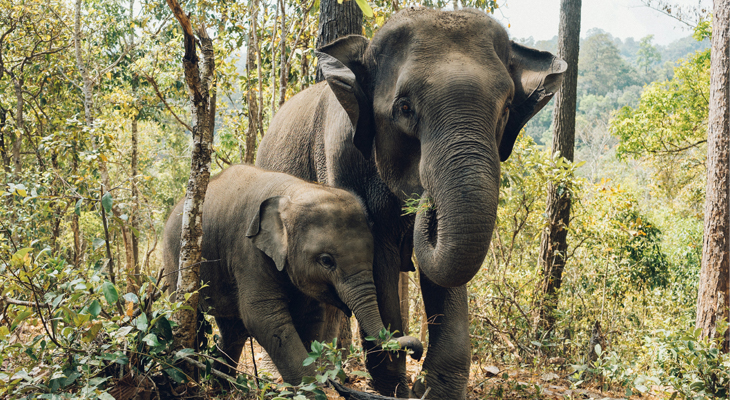 4. Ethical interactions with Elephants
Did you know that you can play, observe, and have inspirational encounters with these magnificent creatures in their natural habitats completely cruel-free? Instead of riding an elephant or watching them perform tricks, elephant sanctuaries across Thailand offer you the opportunity to join them on a jungle trek and learn how to feed and bathe these gentle giants.
Recommended City: Chiang Rai
Thailand's northernmost province, Chiang Rai is the perfect destination for guests who want to get away from it all. Discover a hidden corner of the Kingdom blessed with spectacular scenery and colourful cultures. Besides visiting the elephant sanctuaries in Chiang Rai, those looking to unwind and reconnect with nature can consider staying at Anantara Golden Triangle Elephant Camp & Resort. Guests can observe the majestic elephants in their natural habitat from the comforts of your own fully furnished and transparent Jungle Bubble. You can also engage in various activities like walking with the elephants, going on cultural tours with a local guide and more.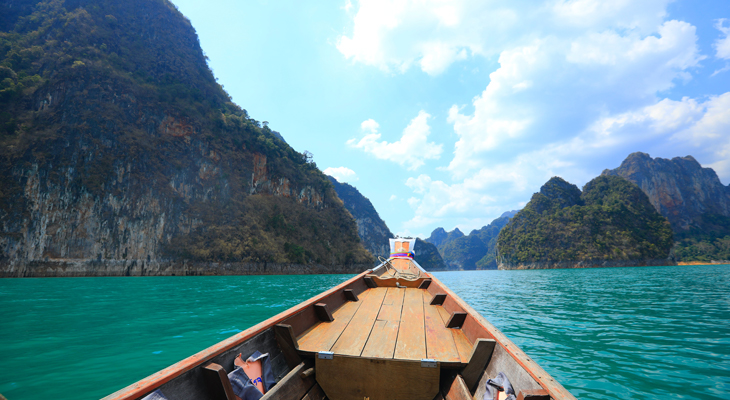 5. Go island hopping
From the pristine beauty of the crystal-clear waters, untouched limestone islands, peaceful white sandy beaches, to the adrenaline-pumping water sports, don't miss discovering the paradisiacal beaches of Thailand for yourself!
Recommended City: Phuket
Thailand's largest island is lined with beautiful bays and silky-soft stretches of sand. It is also an ideal base for island hopping in southern Thailand. Take a day trip to the nearby Phi Phi Islands and get the best views of the azure blue waters of the Andaman Sea and the surrounding scenery. Another must-visit place is Phang Nga Bay, and its main landmark, the James Bond Island. If you're looking to engage in some water sports, be sure to visit Coral Island for its wide range of water sports and activities such as diving, snorkeling, parasailing and the banana boat.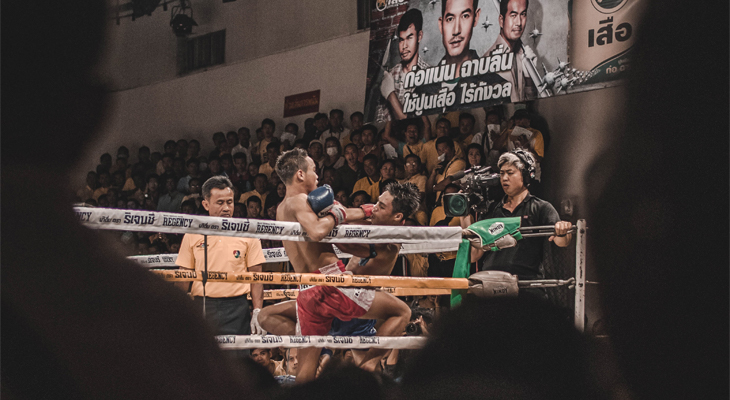 6. Watch a thrilling Muay Thai match
Muay Thai is Thailand's national sport, it is also known as Thai boxing. This combative sport uses a beautiful combination simple yet effective movements. The action-packed, fascinating, and unique display of determination and strength takes place almost every evening across Thailand including Bangkok, Chiang Mai, Koh Samui and Phuket.
Recommended City: Bangkok
If you're casually looking to have a quick glimpse of how the sport is like, MBK Mall hosts free Muay Thai events from time to time. For those who are looking for the real deal, be sure to visit the Rajadamnern Stadium, the first Muay Thai stadium built in Thailand. The stadium hosts elite flights and you'll be able to catch many of the best fighters here.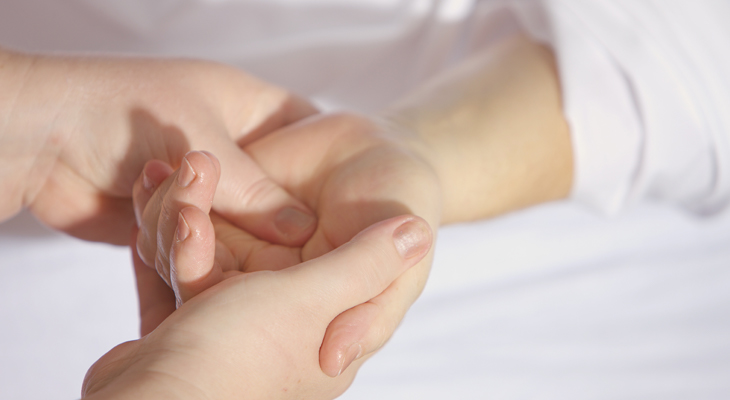 7. Revive your energy with a Thai Massage
Traditional Thai massage focuses on releasing stress and pressure in one's body after a long day of activity. Be prepared to be stretched, pulled, and rocked by the hands of your masseuse. Then, look forward to feeling your stiff muscles loosen up after the session.
Recommended City: Koh Samui
Koh Samui is Thailand's original paradise island. An emerald jewel in the glistening Gulf of Thailand, this exotic gem is home to many of the finest wellness centres in all of Thailand. It is a wonderful place to relax, revive your senses and recharge your batteries. Most spa resorts in the island offer facials, massages, body scrubs and other wellness treatments which are aimed at improving your health and wellbeing.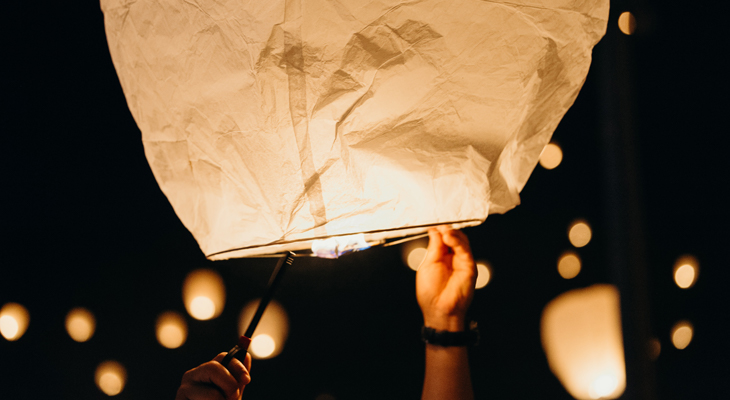 8. Participate in the local festivals
Immerse yourself in Thai culture by experiencing some of the best celebrations in Thailand. Songkran is a major event in Thailand, celebrating the start of the Thai New Year. Locals believe that water is a symbolism of spiritual purifying, hence during this 3-day long celebration, they are armed with water guns and buckets of water ready to join in the water fights. For a less rowdy celebration, Loy Krathong is one visually mesmerising event. Every year, Loy Krathong falls on the night of the 12th lunar month when the full moon lights up the night sky. Thousands of small, candlelit floats (krathongs) are released in rivers and waterways as offerings to the river spirits and to symbolically let any misfortune 'float away'. Don't forget to make your wishes for the coming year while you're at it!
Recommended City: Anywhere in Thailand
Songkran and Loy Krathong are festivals that are celebrated throughout the country so you will probably be able to enjoy the festivities almost anywhere. However, there are some cities such as Bangkok and Chiang Mai, that celebrate these festivals on a much larger scale. Don't miss a visit to Sukhothai, a city located in central Thailand, believed to be the birthplace of Loy Krathong. Celebrations for Loy Krathong in Sukhothai spans over 5 days, which includes the mesmerising floating lights, beauty contests, folk music performances, light shows and parades. Also, remember book your hotels way ahead of time if you're looking to travel to Thailand during these festive periods.