In the city of sins and vices, I lived the dream i dreamt my entire life …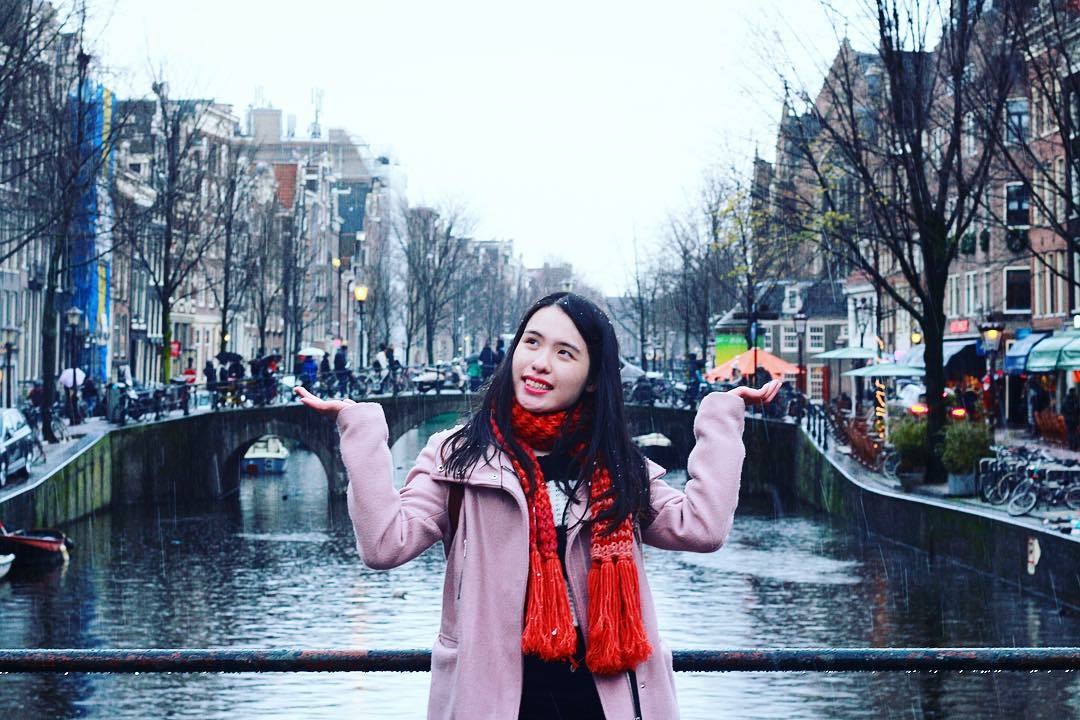 Rumours has it that Amsterdam is the city of sins and vices, with a legal red light district and marijuana cafés. Being a 21-year-old girl with financial constraints and limited travel experience, I decided to take a leap of faith and visit Amsterdam for eight months, alone. I experienced culture shock, met amazing individuals and created lifelong memories, and I realized that there is no better way to change my perceptions than through travel.
The sex trade and smoking marijuana are taboo topics, especially in the country where I grew up in, Singapore. There were lots of provocative tales that have shaped Amsterdam as a sinful place in my mind. I could never imagine a city where people smoked freely in the streets, or where women can visit the red-light district without the fear of harassment. But to my utmost disbelief, this is the city I found. Amsterdam may not be the city of romance like Paris, but it is arguably the city of the greatest love – the Netherlands was the first country to legalise gay marriage. Having such a liberal and respectful culture also makes Amsterdam a city that accepts anyone from anywhere.
For one moment, try picturing yourself stepping into a city where you see hundreds of thousands of bikes swarm through the narrow streets, making cars powerless to compete with their overwhelming numbers. Also, imagine that it is possible to eat, drink or text while cycling along the street! In Amsterdam, bikes carry people from all different walks of life.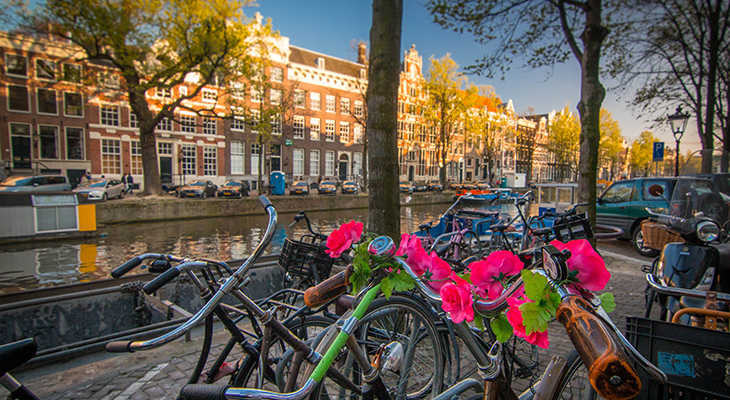 As Amsterdam is known as the "Venice of the North", I found myself constantly getting lost in a never-ending maze of beautiful canals. It is such a picturesque place where old creaking boathouses contrast with new cafés. If you happen to visit Amsterdam on the Queen's birthday on 30 April or during Gay Pride in July, you will see once peaceful and calming canals transform into an outdoor party with parades of boats. When you look deeper into the city, you will find yourself engaging in a rich history and some of the world's greatest artworks.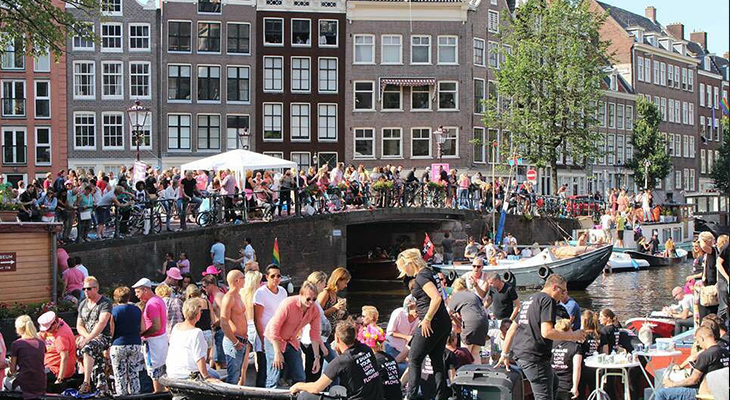 Amsterdam has so many things to offer all tourists. Regardless of whether you are a traveller who is seeking cultural, gastronomic or historical experiences, this is a real city that offers endless opportunities for exploration. In this edition of Travel Aggregator, I will be bringing you my most exciting places to go and to do things in Amsterdam.
Do you know? According to the Economist Intelligent Unit's third annual Safe Cities Index, Amsterdam has been proudly ranked as the safest city in Europe and the 6th safest city in the world.
For the YOLO traveller
Get on a bike!
Many tourists have avoided renting a bike in Amsterdam because it is indeed a nightmare for the first timers. If you do not fully understand the rules of the road, you will be reprimanded for halting unexpectedly and having your bike tires stuck in the tram tracks. Fret not! There are plentiful safely guided bicycle tours that will ensure your safety and allowed you to discover places that remain inaccessible by other transports. Join one of the guided tours and do as the locals do!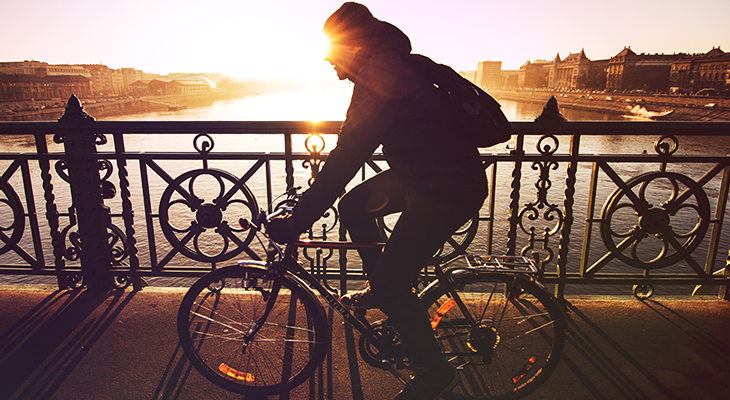 Personal tips of cycling in Amsterdam:
Do not cycle on the sidewalks. The bike paths are coloured red.
Before making a turn, signal to other cyclists using your hands.
In Amsterdam, bikes use pedal brakes. Learn how to use these before you set off!
Lock your bicycle with two security locks.
Pedalling on the Amsterdam canals!
How often will you get the opportunity to pedal on a UNESCO awarded 400-year-old canals? The bike may be an unformidable form of transport in Amsterdam, but the pedal boat is its underrated and humble sibling. Pedal boats, also know as water bikes, allow you to admire the beautiful architecture buildings, iconic canals, bridges, and all major attractions from the water. Rent a canal bike from four locations around the city with a few friends or family members, and enjoy a personal canal experience at your own speed, pedalling alongside big boats.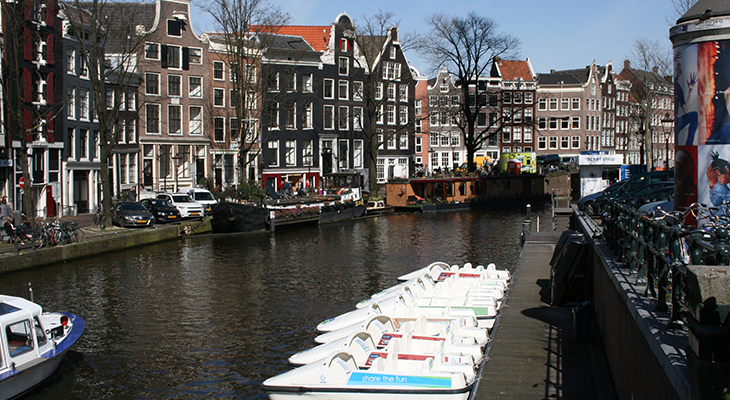 Visit the world's only Museum of Prostitution
The "world's oldest profession" remains a taboo for most countries. In this educational museum, you will hear the voices of sex workers, visit the rooms they work in, and experience how it feels like to "sit in the window".
Visit the famous The Bulldog coffee shop
This is not your usual coffee shop. In Amsterdam, coffee shops can sell marijuana. Here in the city's red light district, you can visit the first coffee shop in Amsterdam.
Where to stay?
NH Collection Grand Hotel Krasnapolsky is an extravagant five-star conference hotel located on Dam Square, in the heart of Amsterdam. Originally built in 1855, this classical hotel features 451 guest rooms, all decorated with a contemporary style and a pleasant colour scheme. The hotel offers a wide range of conference and meeting rooms, which makes it an ideal venue for business conferences, seminars and other big events. For more information, click here.
Fun fact: Dutch people are the tallest in the world, with average of height of 1.84 m for men and 1.7m for women.
For the museum traveller
The museums in Amsterdam range from the inspiring Biblical Museum to the provocative Sex Museum to the grand Rijksmuseum. With the limited time in Amsterdam, everyone should at least visit these three museums, which are the most popular in the Netherlands.
Rijksmuseum
Just right in front of the insta-famous I Amsterdam sign, the Rijksmuseum is one of the largest and most popular museums in the world. The museum showcases a wide range of artefacts that highlight more than 800 years of Dutch and world history. It also contains Rembrandt's famous 'The Night Watch', which hangs in a beautifully lit hall.
Van Gogh Museum
Just a few minutes away from Rijksmuseum, you will be able to step into the world of Vincent Van Gogh. This is the world's largest collection of works by Van Gogh, including the famous 'Sunflowers' and his self-portraits. Most importantly, the museum allows us to gain a deeper insight of Van Gogh's personal life, especially how he has coped with his mental illness and obsessive nature.
"I am a man of passions, capable of and liable to do rather foolish things for which I sometimes feel rather sorry." – Vincent Van Gogh
Anne Frank House
Have you ever wonder how a young girl's diary has become one of the most famous books in the world? Anne Frank was young Jewish girl who went into hiding during the WWII to escape the Nazis. You may have read The Diary of a Young Girl several times, but you can never truly experience how she felt until you step into the home where Anne Frank and her family were hidden for years.
Insider tips: Please buy the tickets up to two months in advance to avoid few long queues.
If you are not into history and art, you must visit one of the most entertaining and exciting museums in the world…
Heineken Experience
Do you know that Heineken was founded in Amsterdam? Visited by millions of people from all over the world, the Heineken Experience is an interactive museum that showcases the beer brand and its amazing brewery. You will also be entitled to two complementary Heineken beers and able to draft your very own Heineken!
Where to stay?
Conservatorium Hotel Amsterdam is a luxury five-star hotel situated in the heart of bustling Amsterdam. It is a famous architectural building that combines historical heritage with modern designs. Most importantly, it is in a prime location just minutes away from the Rijksmuseum, Van Gogh Museum, Vondelpark and P.C. Hooftstratt, the luxury shopping district. With a total of 75 rooms and 54 suites, guests are given a wide choice of accommodation, from superior rooms to a penthouse suite. For more information, please click here.
Fun fact: The Netherlands has more 92 museums – more per square mile than any other nation in the world.
For the foodie
Having spent eight months in Amsterdam, I have experienced a whole indulgence of delicious food, from my favourite street food in Albert Cuyp Market to Europe's first avocado restaurant.
Albert Cuyp Market
If you want to visit a local market in Amsterdam, you should head to the largest and most famous outdoor market in the Netherlands, which has been trading since 1904. Situated in the neighbourhood of De Pijp, Albert Cuyp Market has a laid-back atmosphere and over 300 stalls. You must try the Dutch raw herring, freshly prepared stroopwaffles and poffertjes and world-famous fish and chips at Vishandel Albert Cuyp.
Europe's first avocado restaurant – The Avocado Show
Just minutes away from Albert Cuyp Market, you will be able to experience an all-avocado restaurant. Every item on the menu is made of avocado, from the messy avocado bun burger to the classic avocado toast, the unusual avocado ice cream or even an avocado chocolate smoothie. The café is also beautifully designed, making it an Instagram treat – it already has more than101,000 followers!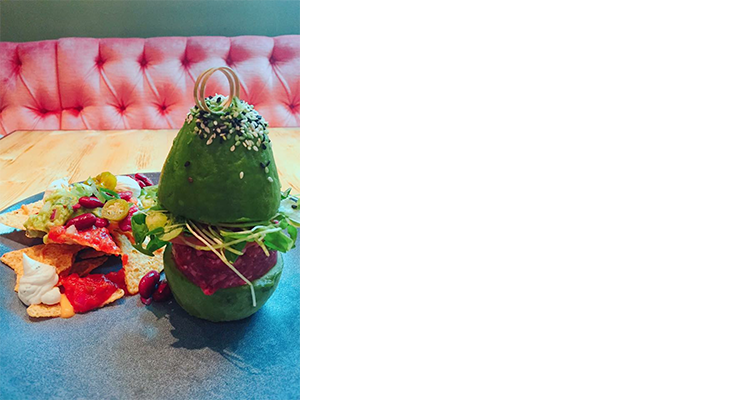 Café Winkle 43
Situated in Jordan, one of the city's most beautiful neighbourhoods, this café serves the best apple pie in Amsterdam. This thick, crumbly delight with big chunks of sweetened apples, served with a generous scoop of cream, is well loved by the locals. This traditional Dutch pastry is a must-try for all tourists.
Pancakes Amsterdam
If you love fluffy American pancakes, you need to try the traditional Dutch version. Dutch pancakes are flat, crepe-like and thin. If you are not into sweet pancakes, they also serve savoury pancakes which are surprisingly delicious. Most importantly, they are conveniently located in three locations across the city – near Central Station, 9 Streets and Westermarkt.
FEBO – FErdinand BOLstraat
Have you ever encountered difficulties in finding time for lunch during your holidays? Fret not! FEBO is a famous Dutch walk-up fast food restaurant chain with more than 20 outlets in the city. You will be able to find authentic Dutch delicacies such as krokets, kaassouffles, frikandellen and bitterballen. Most importantly, this shop is an automat, which makes FEBO an essential item on many travellers' to-do list.
Where to stay?
Park Hotel Amsterdam is a four-star hotel situated in the middle of this vibrant city, just minutes away from Leidseplein and Albert Cuyp Market. All suites and rooms guarantee magnificent views of the lively city centre, charming Amsterdam canals and the calming Vondelpark. If you have an interest in the local art scene, Park Hotel collaborates with local artists and galleries to showcase their works in a gallery zone, situated in The Living Room of the hotel. For more information, please click here.
Annual events near Park Hotel Amsterdam
King's Day (formerly known as Queen's Day) is the biggest street party of the year when you will see the city turn bright orange! Held every April, you will be able to soak up the orange-pride atmosphere in the streets, parks, canals and everywhere around the city. Enjoy the live music, canal parades, parties and a citywide street markets, which will fuel your bargaining skills. If you want to indulge in an amazing experience, you can even rent a boat and host your very own boat party.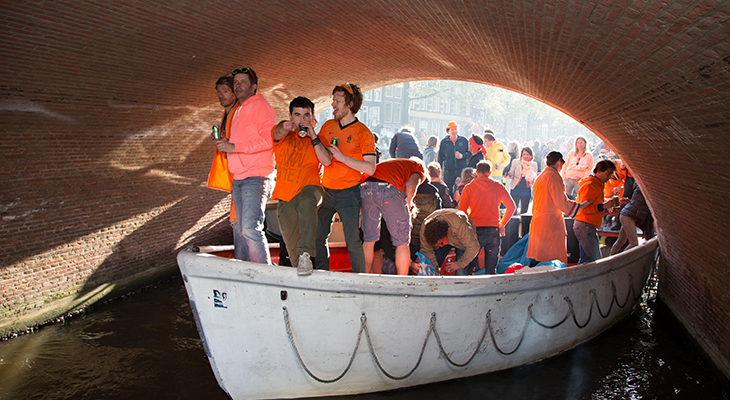 Fun fact: The Netherlands is as flat as the Dutch pancake – almost 25% of its land below sea-level. The country's highest point, Vaalserberg, is only 322.7 metres high.
A taste of home in a faraway land – For the Asian food lover
It is hard not to miss the tasty and delicious Asian food when you travelled to a western country for several days or months. There will always be a part of you that will have constant craving for rice and spicy food. To my great delight, I managed to find a taste of home in this faraway place, making Amsterdam feel a lot more like home.
Max Amsterdam
Did you know that the Dutch once colonised Indonesia? The Indonesian food scene can be easily found in Amsterdam, and no gastronomic tour is complete without making a trip to an Indonesia restaurant. Located in Jordan area of the city, Max Amsterdam serves delicious, authentic Indonesian delicacies such as the traditional rijstafel. Choose several Indonesian dishes which are good for sharing among friends or families, creating a great ambience.
Nam Kee, Chinatown
Living in Amsterdam for nearly eight months, this is the only restaurant that I visited at least twice a week. Not only do they serve one of the best roasted Peking ducks in the world, they also offer many other Chinese dishes such as wonton soup, roasted pork, and breaded chicken in sweet and sour sauce. If you have extreme cravings for Chinese food, you will need to visit this cosy restaurant that feels like home.
Wok to Walk
If you are a traveller that prefers quick takeaways, Wok to Walk will satisfy your cravings for Asian food. The store specializes in wok stir-fried Asian cuisine, served in cute oyster pails. With reasonable prices, you will be able to customise your own Asian food according to your taste and preferences.
YoYo! Fresh Tea Bar
One of my favourite drinks in the world is bubble milk tea, and there will always be a part of me that keeps hunting for this drink in different countries. Thankfully, I managed to find a gem in Amsterdam's Chinatown, which serves sweet milky drink with dozens of cute chewy tapioca pearls and oversized straws. If you are not a fan of bubble tea, the store also serves other freshly brewed iced teas and premium tea mocktails.
Ramen-Ya
If you are planning to visit Amsterdam during the winter, you must visit Ramen-Ya for a bowl of steaming hot ramen that will keep you warm and comforted. One of the main highlights is that the restaurant only uses its own handmade noodles. It will be one of the freshest, most delicious and filling ramen bowls that you have ever eaten in Europe.
Toko Dun Yong
Situated right in the heart of Chinatown, this sixth-floor supermarket offers everything you need from the entire Asian continent. If you happen to live in a hotel or apartment that allows you to whip up your favourite Asian dishes, you can visit this store to get all the necessary ingredients. If you are not planning to cook any dishes, you can still visit this store to get your favourite Asian snacks, medicines or cup noodles.
Where to stay?
Grand Amrath Hotel is a five-star deluxe hotel is situated in Scheepvaarthuis, just 500 metres away from the iconic central station and minutes from Chinatown. The hotel consists of 205 rooms, including 22 suites and six conference rooms. The hotel is well designed in the style of an Amsterdam school with opulent forms and warm colours. After a long day in the city, you can get back to the hotel and enjoy unlimited access to the spa and wellness facilities. For more information, please click here.
Fun fact: Amsterdam is one of the most diverse cities in the world, with 176 different nationalities.
For the party animal
It is hard to resist Amsterdam's amazing nightlife. Club nights and dance festivals are available all year round to suit the crowd, with everything from funk to hip hop, dub-step or techno. On the weekends, the bars are open till 3am and the dance clubs never close till 4am. Sometimes, you will still find clubs or bars that stay open for after-parties before the party animals catch the first trams home from Central Station.
Escape
Situated right on the lively Rembrandtplein, Escape is one of the largest and most popular nightclubs in Amsterdam. It is youthful place which offers a wide range of music that covers the hippest dance music styles – electro, pop, house and techno. If you want to visit a club that hosts the best DJs in the town, Escape sometimes features world-famous DJs such as Kevin Saunderson, Tiesto, David Guetta and Todd Terry.
Jimmy Woo
This is a rare Amsterdam club with international style and charisma, and almost every visiting celebrity will head down to Jimmy for a fun night. The club has two different floors with an upstairs lounge beautifully decorated with an Asian-style bar and the hectic dance floor downstairs. With 11,700 light bulbs hanging on the low ceiling that blink to various patterns with the music, this is a club that you need to explore in Amsterdam.
Pub Crawl
When you are in Europe, you will need to experience the legendary pub crawl. A social gathering for tourists and local expats, this is a great way to meet new people and discover new places to drink. In just one night, you will pub crawl to more than five bars, meeting lots of like-minded people.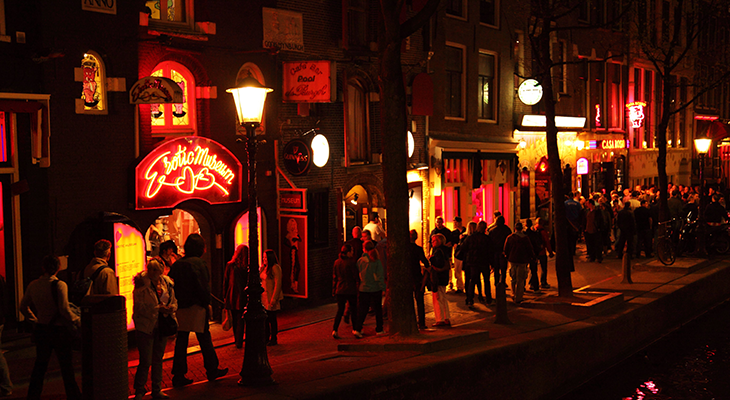 Coco's Outback
This is one of my favourite bars to hangout during a girl's night out. It is an international Aussie pub situated strategically on Rembrandt Square, close to many other pubs and clubs. If you happen to during the World Cup or rugby season, this pub features most major sporting events on their 30 screens. Most importantly, if you want to drink on a relatively tight budget, this bar offers 10 shots for just 10 euros!
Club Prime
Just a two-minute walk away from Coco's Outback, you can experience one of the best late-night party hotspots in the city. With a fun loving young crowd, pop music and affordable drinks, this is the place where you can dance the night away. This club is open till 3am on weekdays and 5am on weekends. Most importantly, if you still want to party after 5am, this club will take you to another bar that is open for an after-party!
Where to stay?
W Amsterdam Hotel is a unique hotel that is beautifully split into two grand buildings – a bank and a former telephone exchange. With 238 modern guestrooms, including 23 suites, this is a mix of rich heritage and contemporary style where nights never end. The hotel has its own exclusive W Happenings such as W Amsterdam Pride Launch. Just seven minutes' walk away, you will be able to visit the famous and affordable Primark retail shop. For more information, please click here.
Annual Dance Festivals
If you are a big fan of extreme crazy night parties, you will need to head down to AMF Amsterdam which has proudly established itself as one of the biggest dance music events in the world. Situated in Amsterdam's largest stadium – the Amsterdam Arena, you will see tens of thousands of people dancing to the beat. This dance festival will take place on 20 October 2018.
Do you know? You can enjoy seven days of unlimited nightlife in Amsterdam for only 10 euro! Hurry head down to Amsterdam and purchase the Amsterdam Nightlife Tickets!
For the souvenirs hunters
All of us have once carried souvenirs home from our travels, even when our luggage is overweight. They often come in various fun shapes such as keychains, postcards or fridge magnets. Sometimes, we even attempt to buy their local food that is packed into heavy cans or packages. Do we really love the local food, or do we just love the feeling of eating a foreign food back home?
It is human nature to gather mementos, as we try our best to remember our beautiful travel memories – to recall an inspiring encounter, adventure, emotion or person. While others may think that purchasing a souvenir is materialistic and wasteful, I simply call it sentimental. Whenever you look at these cute souvenirs, you will get a feeling of having a little piece of a place to yourself. It is as though this small little object makes you feel that time has stopped for a moment. Not only is it for personal value, I believe that buying souvenirs is one of the best ways to give back and spread the local culture to the rest of the world.
Custom Clogs
When the world thinks of Netherlands, they often imagine a picturesque landscape of windmills and wooden shoes. Why not try purchasing some clogs for your family and friends? Even though they may not be comfortable or practical to wear, they can be used as decorations or to keep plants in. If you want custom designed clogs, let's pay a visit to De Klompenboer which can print your name on the shoes.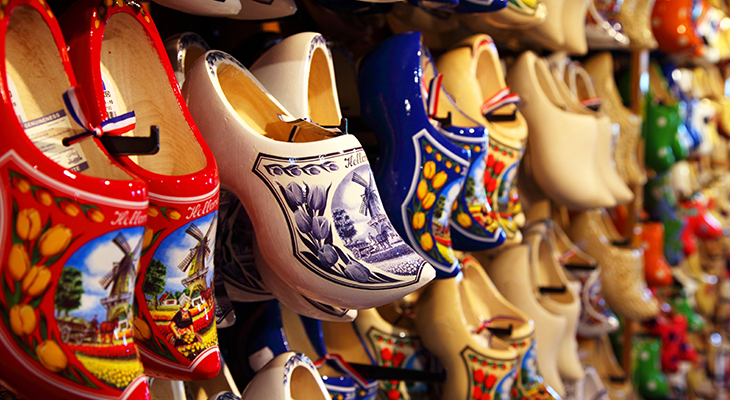 There are plenty of decorative and functional clogs to choose from, available in almost every souvenir shop.
Stroopwaffles
If your family or friends want to get a taste of the Dutch delicacies, you will need to grab some packs of stroopwaffles to take back home. Look out for these at Albert Hein, the Amsterdam supermarket chain, where you can buy fresh and affordable tasty treats that are light-weight for the flight home. If you want to make a creative goodie bag, you can mix it with other sweet treats such as Dutch drops and chocolate sprinkles.
Tulips
Do you know that you can buy the Dutch national flower, the tulip, and take them back home? Before your flight, remember to head down to the world's only floating market that offers tulip bulbs all year round. If you do not want real tulips, you can also find bundles of colourful tulips that can be used for decorations.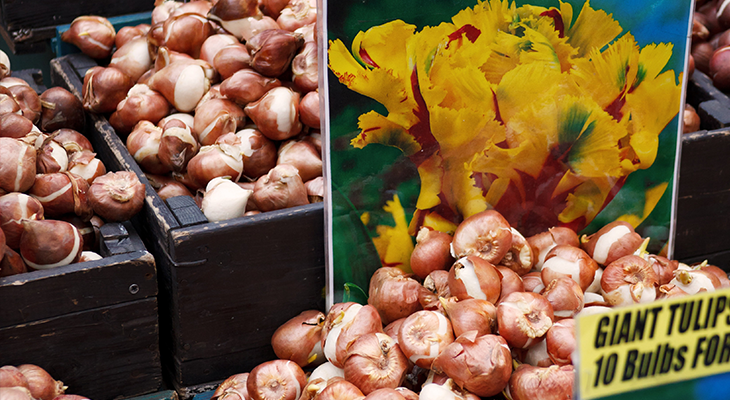 Dutch Cheese
If you want a cheesy gift for someone special, why not buy Dutch cheese as a souvenir? If you are a cheese-loving traveller, you will be spoilt by the wide varieties that are offered in Netherlands.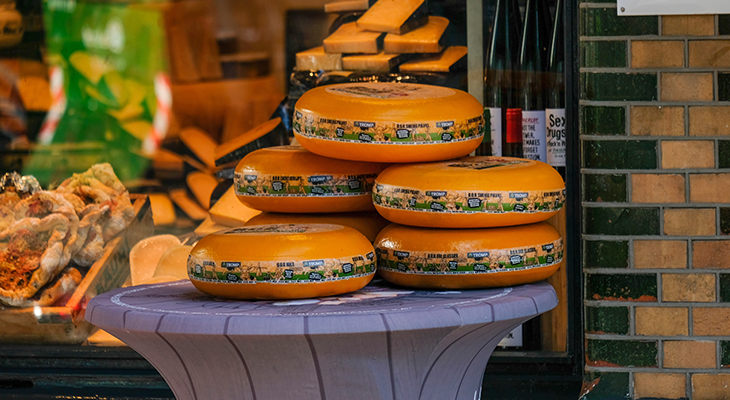 Hema stationery
Do you have friends or family members who dislike traditional clichéd souvenirs and prefer more authentic overseas gifts? Fret not; you can head down to HEMA, the famous Dutch chain store that designs all its products in-house. It sells everything from clothing, traditional Dutch food, books, and unique stationary. If you have a tight budget, this is the place to purchase cute and cool local design products.
Where to stay?
Swissotel Amsterdam is a luxury four-star boutique hotel that is located at Dam Square, just minutes away from Central Station. Nestled in a 19th Century historical building, the hotel offers 111 guest rooms with a contemporary, sophisticated and luxurious design. If you are afraid of being disturbed by the crowded and bustling Dam Square, the hotel has soundproofed the rooms for guests. For more information, please read here.
Annual Christmas Markets
Head down to Amsterdam to enjoy a magical white Christmas with numerous joyous Christmas markets! Just right in front of the iconic I-Amsterdam sign, there is a charming Christmas village with ice-rink, market stalls, and live entertainment that will keep you warm and ecstatic. If you want to visit one of the largest Christmas markets in Netherlands, head down to the Haarlem Christmas Market which is just 20 mins away from Amsterdam via train! It is a must do experience as you will be getting lost in the hundreds of market stalls with the sounds of Christmas carols. It is the time of the year which will make it harder to head back home.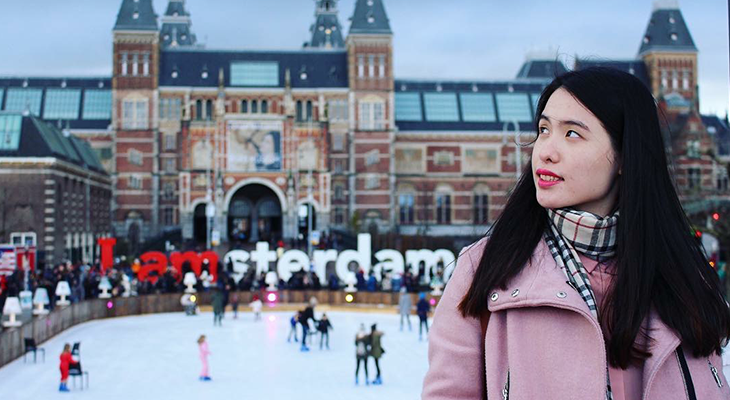 Do you know? Amsterdam is just a few hours via train or bus to Belgium, Paris, Germany, and the United Kingdom. If you have extra time, remember to pay a visit to Vaalserberg. It is a three-country point where Germany, Netherlands and Belgium meets.